Pieter van Vollenhoven was born in Schiedam on 30 April 1939, the second son of Pieter van Vollenhoven senior and Jacoba Gijsbertha van Vollenhoven-Stuyling de Lange. His brother, Willem Jan van Vollenhoven, died in 2006.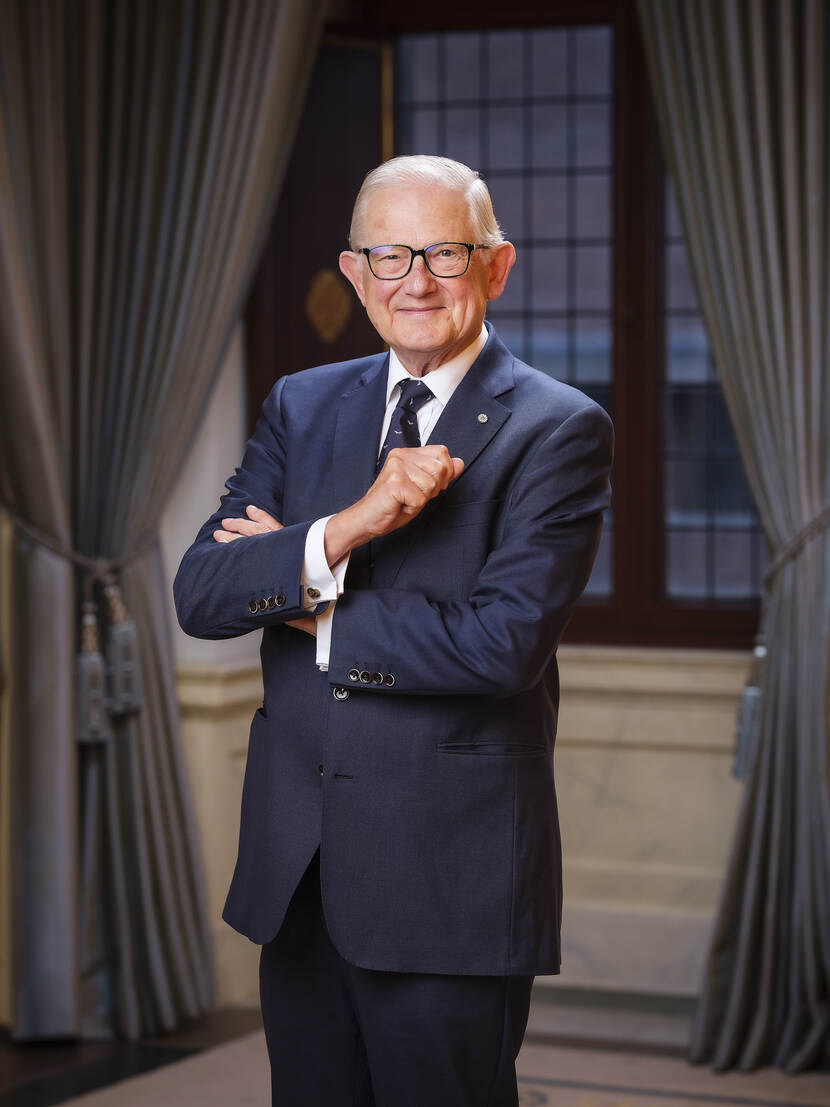 Education
Professor Van Vollenhoven attended primary school in Rotterdam and went on to the Montessori Lyceum, passing his secondary school leaving examinations there in 1959.
He then enrolled at Leiden University, where he studied Dutch law. He graduated in 1965.
Marriage and family
Pieter van Vollenhoven met Princess Margriet of the Netherlands at Leiden University. Their engagement was announced on 10 March 1965. They married in The Hague on 10 January 1967 and then took up residence in the east wing of Het Loo Palace in Apeldoorn. In 1975 they moved to their present home, Het Loo House.
Princess Margriet and Professor Pieter van Vollenhoven have four sons: Prince Maurits (b. 1968), Prince Bernhard (b. 1969), Prince Pieter-Christiaan (b. 1972) and Prince Floris (b. 1975). The couple also have eleven grandchildren:
the children of Prince Maurits and Princess Marilène: Anna (b. 2001), Lucas (b. 2002) and Felicia (b. 2005);
the children of Prince Bernhard and Princess Annette: Isabella (b. 2002), Samuel (b. 2004) and Benjamin (b. 2008);
the children of Prince Pieter-Christiaan and Princess Anita: Emma (b. 2006) and Pieter (b. 2008);
and the children of Prince Floris and Princess Aimée: Magali (b. 2007), Eliane (b. 2009) and Willem Jan (b. 2013)
Work
Pieter van Vollenhoven was called up for national service in the spring of 1966 and served in the legal department of the Staff of the Commander-in-Chief of the Royal Netherlands Air Force in The Hague. In 1967 he received Air Force Pilot training at Gilze-Rijen and obtained his Military Pilot's Licence. In 1968 he was commissioned as reserve officer (pilot) in 300 Squadron at Deelen airbase. He is Honorary Air Commodore in the Royal Netherlands Air Force and Aide-de-Camp Extraordinary.
Safety
Professor Van Vollenhoven is closely involved in the field of safety assurance, both in the Netherlands and abroad. In 1975 he was invited to act as advisor on road safety to the Minister of Transport, Public Works and Water Management. He has chaired the following organisations:
the Road Safety Council
the Railway Accidents Council
the Community and Safety Association
the National Road Safety Fund
the Council for the Promotion of Safety Impact Studies
the Transport Safety Board and
the Dutch Safety Board
From February 2005 to January 2011, Pieter van Vollenhoven was Chair of the Dutch Safety Board, which is responsible for independent safety investigations in the transport sector, but also in sectors such as defence, industry, health care, nature and the environment.
On 1 October 2005 Pieter van Vollenhoven was appointed Professor of Risk Management at the University of Twente.
Professor Van Vollenhoven is also Honorary Chair of the Community and Safety Association (in Dutch), an independent organisation that advises on safety issues. He has also occupied a number of international posts in the field of transport safety.
Co-founder and a member of the European Transport Safety Council
Co-founder and Chairman Emeritus of the International Transportation Safety Association, in which all transport safety boards are combined.
From 1990 he spent a few years acting as advisor to Dr Karel van Miert, the European Commissioner for Transport.
In 2004 Professor Van Vollenhoven was invited to join the Group of Experts on Accident Investigation, which advises the European Commission.
Historic buildings and nature
Until the end of 2012, Professor Van Vollenhoven chaired the National Restoration Fund and in this capacity was involved in the preservation of objects and structures of cultural and historical value. He remains interested in this subject area and is Chair of the Committee for Repurposing Historic Buildings.
Until the end of 2014 Professor Van Vollenhoven was also Chair of the National Green Fund, which supports Dutch nature, woodland and landscape projects. He has more recently been appointed chair of several committees involved in developing a new approach to the Netherlands' National Parks. Since 2017 he has chaired an expert committee that is mandated, in cooperation with the forest service Staatsbosheer and the Cultural Heritage Agency, to explore ways of promoting a new, more cohesive network of National Parks. To this end the committee is surveying the parks' unique natural characteristics, landscapes and cultural heritage. 
Victim support
Professor Van Vollenhoven chairs the Victim Support Fund (in Dutch), which supports and initiates projects aimed at helping witnesses and victims of crimes, road accidents and disasters in the Netherlands, and victims' families.
Public appointments
Professor of Risk Management at the University of Twente
Honorary chair of the Community and Safety Association
Honorary chair of the Victim Support Fund
Chair of the European Movement (Netherlands) (EBN)
Co-founder and member of the European Transport Safety Council
Co-founder and Chair Emeritus of the International Transportation Safety Association
Member of the Group of Experts on Accident Investigation, which advises the European Commission
Honorary posts
Patron of the National Disability Sports Fund
Patron of Vogelbescherming Nederland, a bird protection society
Patron of the Dutch Society for Safety Science
Patron of the Netherlands Association of Whiplash Victims
Patron of the Federation of SOS Telephone Help Lines in the Netherlands
Patron of the Netherlands Students' Sports Trust
Patron of the Netherlands Student Chamber Orchestra (NESKO)
Patron of the Society of Friends of the Band of the Royal Netherlands Air Force
Patron of the Dutch section of the European Journalists Association
Patron of the Netherlands-American Amity Trust (Washington)
Patron of the Netherland-America Foundation (New York)
Patron of the Grote of Sint-Laurenskerk, Rotterdam
Patron of the Menno van Coehoorn Foundation, which works to preserve military fortifications
Chair of the Advisory Committee of the Netherlands Pianola Museum
Chair of the Advisory Committee of the Heritage Open Day Foundation
Chair of the Advisory Committee of the Hollandse Haringpartij Association
Honorary chair of the Advisory Committee of the foundation for the preservation of the Sint Jan Cathedral in Den Bosch
Honorary President of the Brabant International Indoor Horse Show
Member of the Advisory Committee of the Sweelinck Student Orchestra of the University of Amsterdam
Member of the Advisory Committee of the Sempre Crescendo Student Music Society
Member of the Advisory Committee of the Leiden Students Collegium Musicum Choir and Orchestra
Member of the Advisory Committee of the Amsterdam Chamber Music Society
Member of the Advisory Committee of the International Association for Handicapped Divers
Member of the Advisory Committee of the Leiden Minerva Students' Association
Member of the Advisory Committee for Twente University Freshers' Week
Member of the Advisory Committee of the Stichting Bedrijvendagen Universiteit Twente, which forges links between the academic and business worlds
Advisor to the 1945 Surrender Commemoration Committee