Catharina-Amalia Beatrix Carmen Victoria, the Princess of Orange, Princess of the Netherlands, Princess of Orange-Nassau, is the eldest daughter of King Willem-Alexander and Queen Máxima.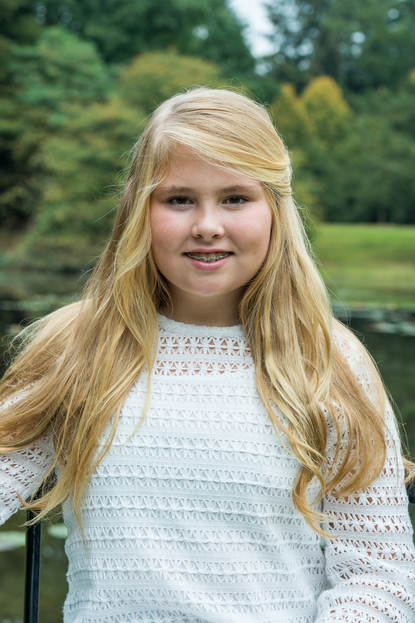 Image: Jeroen van der Meyde
The Princess was born in The Hague on 7 December 2003.
Since the investiture of the King on 30 April 2013, Princess Catharina-Amalia has borne the title Princess of Orange. This title can only be held by the heir to the throne.
The Princess was baptised on 12 June 2004 by Reverend Carel ter Linden in the Grote of St Jacobskerk in The Hague. Her godparents are Prince Constantijn, Crown Princess Victoria of Sweden, Herman Tjeenk Willink, Samantha Deane, Martín Zorreguieta and Marc ter Haar.
The Princess of Orange lives with her parents and sisters Princess Alexia and Princess Ariane in Villa Eikenhorst on the De Horsten estate in Wassenaar and attends Christelijk Gymnasium Sorghvliet in The Hague.
Hobbies
Horse riding, hockey, singing and playing the piano.