Catharina-Amalia Beatrix Carmen Victoria, Princess of Orange, Princess of the Netherlands, Princess of Orange-Nassau, is first in line to the throne. She was born in The Hague on 7 December 2003, and is the eldest child of King Willem-Alexander and Queen Máxima.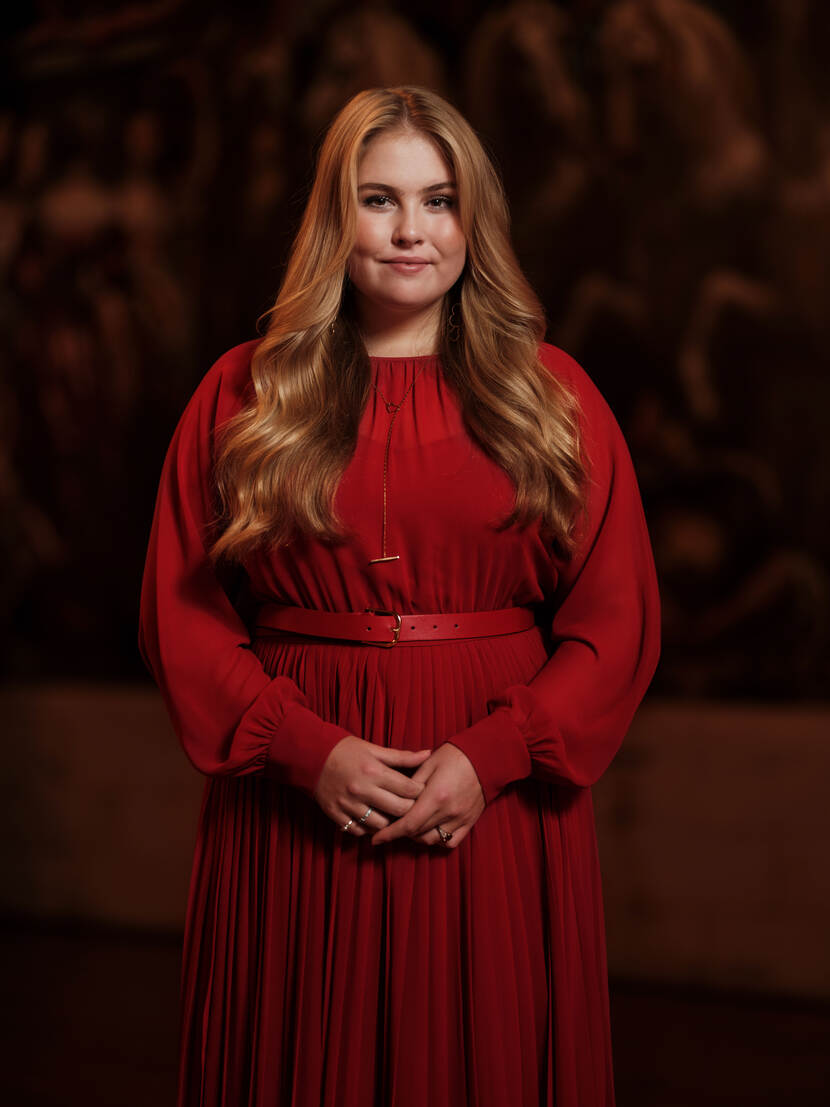 Since the investiture of her father as King on 30 April 2013, Princess Catharina-Amalia has borne the title Princess of Orange. This title can only be held by the heir to the throne and is used without a first name. The Princess has also retained her two other titles, conferred upon her on her birth.
Youth
The Princess was baptised on 12 June 2004 by Reverend Carel ter Linden in the Grote or St Jacobskerk in The Hague. Her godparents are Prince Constantijn, Crown Princess Victoria of Sweden, Herman Tjeenk Willink, Samantha Deane, Martín Zorreguieta and Marc ter Haar.
The Princess spent her formative years at Villa Eikenhorst on the De Horsten estate in Wassenaar. In 2019 she moved to Huis ten Bosch Palace in The Hague together with her parents, King Willem-Alexander and Queen Máxima, and her two sisters, Princess Alexia and Princess Ariane. Since September 2022 the Princess has been living and studying in Amsterdam. In her free time she enjoys horse riding, tennis and singing.
Education
Princess Catharina-Amalia attended Bloemcamp primary school in Wassenaar from 2007 to 2015. From 2015 the Princess attended the Christelijk Gymnasium Sorghvliet in The Hague. Her extracurricular activities included sitting on the student council, acting as a student mediator, and participating in the Model United Nations of the International School of The Hague (MUNISH) and The Hague International Model United Nations (THIMUN) conferences. In 2021 the Princess of Orange passed her pre-university school-leaving examinations with distinction. She then took a gap year, part of which she spent undertaking an internship at the Orange Fund and volunteering for other organisations. In September 2022 the Princess enrolled in the Politics, Psychology, Law and Economics (PPLE) Bachelor's programme at the University of Amsterdam.
Activities
The Princess of Orange is currently focusing on her university studies. When her academic commitments permit, the Princess will participate in Prinsjesdag and in visits and receptions in preparation for her future role as head of state. The same applies to her involvement in King's Day and photo sessions with the royal family.
Official duties
On her 18th birthday the Princess of Orange automatically became a member of the Council of State and its Advisory Division.