Traditions
A number of traditions surround the birth of a son or daughter to the reigning monarch or the heir apparent. The Cabinet issues special flag instructions, so all central government buildings fly the Dutch flag with an orange pennon.
This was the case following the birth of the three daughters of King Willem-Alexander and Queen Máxima. In addition, after the birth of Princess Catharina-Amalia a 101-gun salute was fired at the Indies Monument in The Hague, in Den Helder, in Oranjestad (the capital of Aruba) and in Willemstad (which in 2003 was the capital of the Netherlands Antilles). This military tribute dates from 1818 and since 1967 has only been fired on the birth of a child who is first in line to the throne after his or her father or mother.
In 2003 the government decided that the birth of an heir would be greeted by a 101-gun salute, whether the baby was a boy or a girl. Until then 51 rounds had been fired when a princess was born and 101 for a prince. The distinction between men and women in the line of succession had in fact been removed 20 years earlier, in 1983. At the government's request, bells were also rung to welcome the birth of Princess Catharina-Amalia.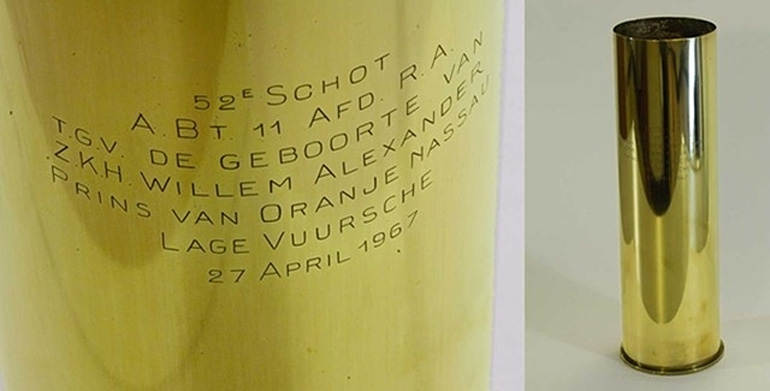 Announcement
Royal pregnancies and births are announced by the Government Information Service (RVD). In earlier times, pregnancies were made known in a different way: when Queen Wilhelmina was expecting Princess Juliana, the prime minister made the announcement to the House of Representatives, in the presence of the entire government.
The birth of an heir apparent is also announced in a special edition of the Government Gazette. The government also informs Parliament of the birth and the prime minister makes a speech of congratulation as soon as possible in both the Senate and the House of Representatives. Since 1938 the prime minister has also made a speech offering the head of state and the baby's parents congratulations and good wishes on behalf of the Dutch people.
Registration
In the past the registrar of births, deaths and marriages went to the palace to register the birth of a member of the Royal House. Since 1967, when Prince Willem-Alexander was born, the father has registered the birth with the municipality where the royal baby was born. The municipality is represented by the mayor and a registrar of births, deaths and marriages. Two witnesses – the prime minister and the Vice-President of the Council of State – are present when the birth of an heir apparent to the throne is registered. In the past, the new member of the Royal House was then shown to these witnesses. Since the birth of Princess Catharina-Amalia, the father has shown the royal baby to the press and the public in the hospital shortly after the birth and has answered questions.