The oldest monuments connected with the history of the Royal House are the tombs of members of the House of Nassau in the Grote Kerk in Breda. They date from the 15th and 16th centuries. The mausoleum of William of Orange in Delft was erected as a tribute to him by the States General.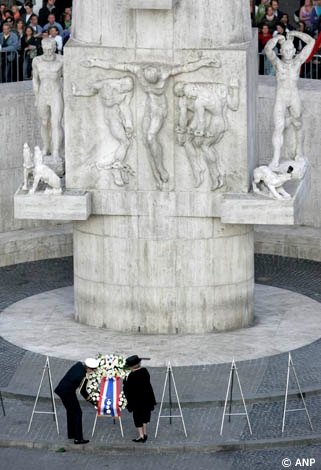 The Royal House also has a special connection with certain historic monuments, such as the one in Plein 1813 in The Hague that commemorates the regaining of Dutch independence in 1813 and the National Monument in Dam Square in Amsterdam.
Statues
Statues of members of the House of Orange-Nassau – often in the form of busts – were first erected in the 19th century, usually posthumously.
Statues may be erected following a government decision or a local initiative. Well-known examples are the equestrian statue of King Willem II in the Buitenhof in The Hague and the many statues of Queen Emma dating from the 1930s. The statue of Queen Wilhelmina by Charlotte van Pallandt that stands near Noordeinde Palace is a national monument. Kees Verkade sculpted the statue of Queen Juliana and Prince Bernhard in the grounds of Soestdijk Palace.