Queen Máxima gives opening address at Global Entrepreneurship Summit 2019
Her Majesty Queen Máxima will give the opening address on Tuesday morning 4 June at the Global Entrepreneurship Summit 2019, which will be held from Monday evening 3 June to Wednesday 5 June in the World Forum convention centre in The Hague. The hosts of this year's summit are Dutch Prime Minister Mark Rutte and US Secretary of State Michael Pompeo. The conference will be chaired by Dutch Minister for Foreign Trade and Development Cooperation Sigrid Kaag. Queen Máxima will be speaking in part as a member of the Netherlands Committee for Enterprise and as the United Nations Secretary-General's Special Advocate for Inclusive Finance for Development.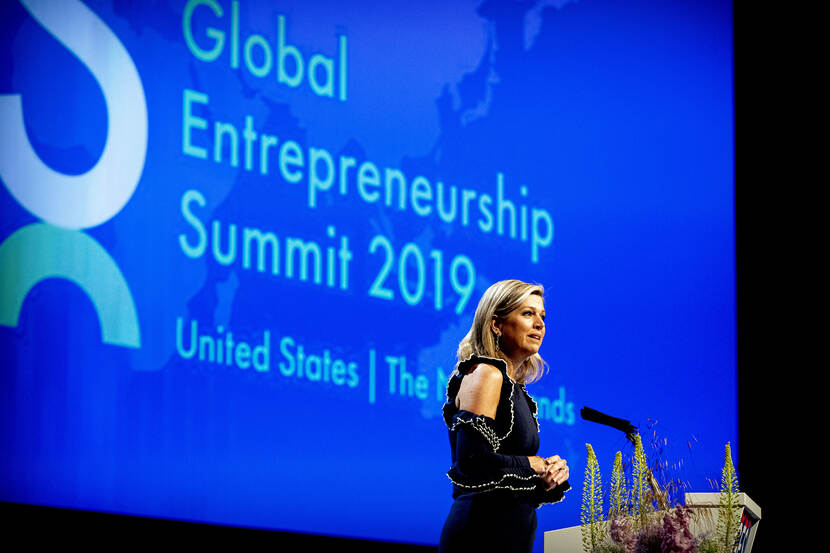 The GES has been organised by the US government since 2010, and jointly with rotating host countries since 2011. It has grown to be a global platform stimulating entrepreneurship and innovation, promoting knowledge exchange and sharing of projects by business people, the corporate sector and investors. This year's theme is 'The Future Now'. The conference will focus on using technology and innovation to find solutions to social problems, for example by improving healthcare and reducing the use of plastic. It is also an opportunity to conclude business partnerships. This will be the first GES to be held in a European Union member state. 
At the heart of GES2019 will be five of the UN's Sustainable Development Goals (SDGs): agri-food (zero hunger), connectivity (sustainable cities), affordable and clean energy, good health and clean water. Sub-themes include women and entrepreneurship, access to capital and industries of the future. The roughly 2,000 conference participants are frontrunners in innovation, entrepreneurship, investment, research and policymaking. They include 1,200 participants selected as 'next generation entrepreneurs', whose projects and ideas provide solutions for global social problems. 
The Netherlands Committee for Enterprise was established by the Ministry of Economic Affairs and Climate Policy to encourage entrepreneurship in the Netherlands. The Committee also focuses on strengthening the growth potential of small and medium-sized enterprises (SMEs). It publishes an annual trend analysis entitled 'State of the SMEs'. 
Queen Máxima has served as the UN Secretary-General's Special Advocate for Inclusive Finance for Development since 2009. As Special Advocate she advises the Secretary-General and is a leading global voice advancing affordable, secure access to financial services for all, including low-income groups and small and medium-sized enterprises. She has been honorary patron of the G20's Global Partnership for Financial Inclusion (GPFI) since 2011.