Queen Máxima in G20 panel discussion on boosting women's entrepreneurship
On Tuesday 25 April Her Majesty Queen Máxima will take part in the panel discussion 'Inspiring women: Scaling up women's entrepreneurship' in Berlin. The discussion is part of the G20 'Women20 Summit 2017' being held in the German capital from 24 to 26 April. Germany currently holds the G20 Presidency. Queen Máxima is the UN Secretary-General's Special Advocate for Inclusive Finance for Development and Honorary Patron of the G20 Global Partnership for Financial Inclusion (GPFI).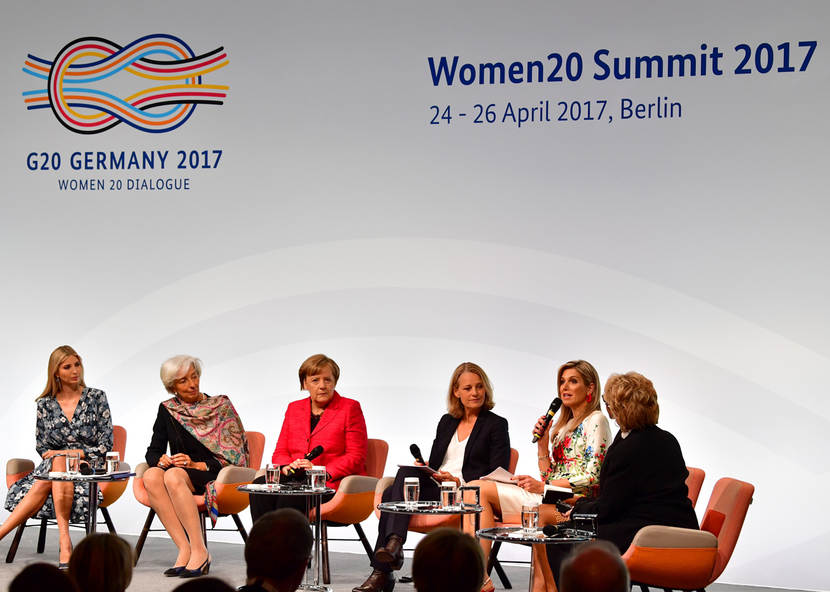 Image: ©ANP / Robin Utrecht
The panel discussion will focus on the opportunities and challenges involved in women's entrepreneurship and improving the economic position of women worldwide. Research has shown that women in particular invest their income in the well-being and future of their children and family. Giving women better access to financial services, such as current or savings accounts, insurance schemes, loans and pensions, provides them with opportunities for economic and personal development. Queen Máxima will highlight a number of issues, including the added value of special financial products and services for women and the importance of customer focus. She will also look at digital applications for financial services that can help reach groups of women who have no banking facilities nearby.
Also taking part in the panel discussion are German Chancellor Angela Merkel, Canadian foreign minister Chrystia Freeland, IMF managing director Christine Lagarde, Bank of America vice-chair Anne Finucane, first daughter and adviser to the President of the United States of America Ivanka Trump, co-founder of Ushahidi open-source software Juliana Rotich and president and chair of technology company Trumpf Nicola Leibinger-Kammüller.
On 14 December 2016 Queen Máxima met in Berlin with federal finance minister Wolfgang Schäuble, federal economic cooperation and development minister Gerd Müller and vice-president of the Deutsche Bundesbank Claudia Buch. The discussions focused on the German G20 agenda for inclusive financing and the GPFI.  On 25 January 2017 Queen Máxima gave a speech during the 'Digitising finance, financial inclusion and financial literacy' meeting at a G20 conference in Wiesbaden.