Queen Máxima and Juliana Awada visit Orange House in Amsterdam
On the morning of Tuesday 28 March, Her Majesty Queen Máxima and Juliana Awada, First Lady of the Argentine Republic, paid a working visit to the Orange House (Oranje Huis) in Amsterdam. An initiative of the Blijf Group, the Orange House offers advice, help and accommodation to people who are contending with domestic violence.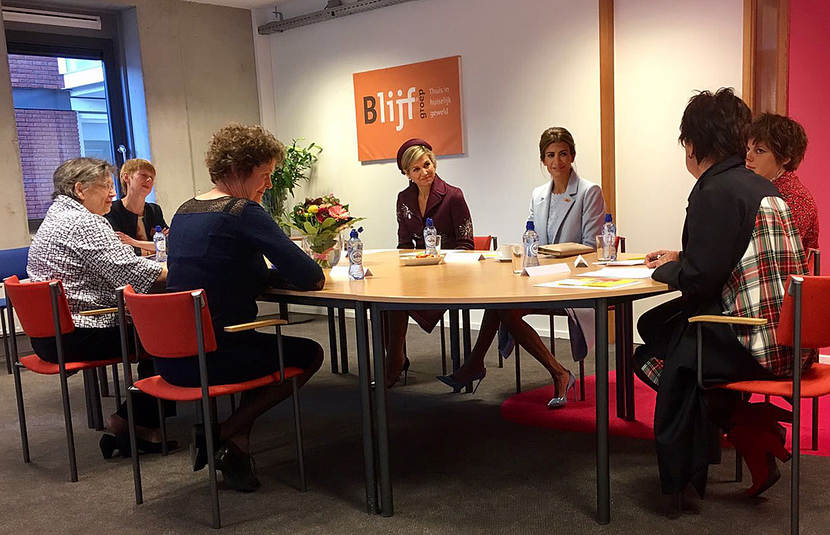 Queen Máxima and Ms Awada spoke with experts and those directly involved about new trends in women's shelters and approaches to domestic violence. The Orange House provides open, visible, customised and future-oriented assistance to entire families. Creating active connections with the neighbourhood, through personal contacts and social cohesion, is crucial in giving clients a feeling of safety. The house's location is no longer secret, so that friends and relatives can visit. There is a great deal of interest in Argentina in this new approach to domestic violence.
Queen Máxima and Ms Awada also saw one of the separate living areas and talked with a resident about her experiences with the Orange House. Separating the care services from the living areas gives women more time and space for rest and reflection. This allows them to carry on with or rebuild their daily routines and strengthen their ties with their children.
The Blijf Group's aim is to prevent and stop domestic violence and exploitative relationships. Princess Máxima, as she was then, opened the Group's first Orange House in Alkmaar in 2011. The house in Amsterdam opened in 2015, and a third house, in Almere, will follow this summer.
The visit by Queen Máxima and Ms Awada was part of the state visit by Argentinian President Mauricio Macri on 27 and 28 March.
Government Information Service, no. 67