Queen Máxima receives members of G20 Women20 network
Her Majesty Queen Máxima received representatives of the Women20 (W20) network at Noordeinde Palace today. This G20 'engagement group' is made up of female international leaders from the public and private sector and civil society. Its aim is to promote inclusive economic growth in the interests of women.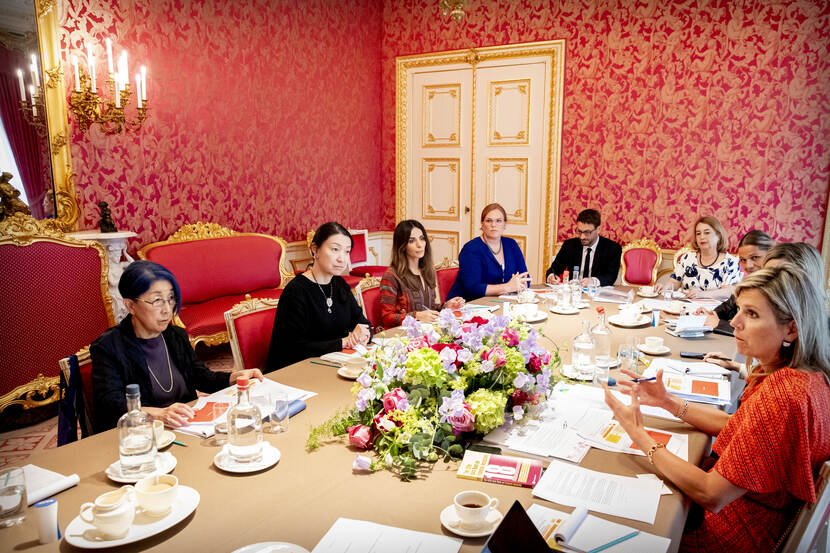 The topic of the meeting was how to strengthen and support the W20 by providing knowledge and technological expertise for the three pillars on which women's economic empowerment is built: access to financial services, digital inclusion and labour market participation. Participants included women who have played a key role in the Turkish, German and Argentinian W20 presidencies and the current Japanese presidency, or will do so in the upcoming Saudi presidency.
The W20 was launched in 2015 under Turkey's G20 presidency. Queen Máxima took part in the German W20 Summit 'Inspiring Women, Scaling up Women's Entrepreneurship' in 2017 at the invitation of German Chancellor Angela Merkel (see Government Information Service press release no. 89). In October 2018 she gave a live video speech at the W20 meeting in Argentina, and in December 2018 she co-hosted the G20 side event 'The Role of Finance for Women's Economic Empowerment' in Buenos Aires (see Government Information Service press release no. 276).
Queen Máxima has been the United Nations Secretary-General's Special Advocate for Inclusive Finance for Development (UNSGSA) since 2009. In this capacity she has been working worldwide to make financial services accessible to all, including low-income groups and SMEs, with the aim of improving their economic and social development opportunities. Since 2011 she has been honorary chair of the G20 Global Partnership for Financial Inclusion (GPFI), working in this capacity to further the G20's activities in the field of inclusive finance.