King and Queen to visit Expo 2020 Dubai
Their Majesties King Willem-Alexander and Queen Máxima will attend the Netherlands' National Day at Expo 2020 Dubai on 3 November 2021. On this occasion, the King will officially open the Netherlands Pavilion. The royal couple will be accompanied by foreign trade and development minister Tom de Bruijn, who will be leading a simultaneous trade mission to the United Arab Emirates (UAE).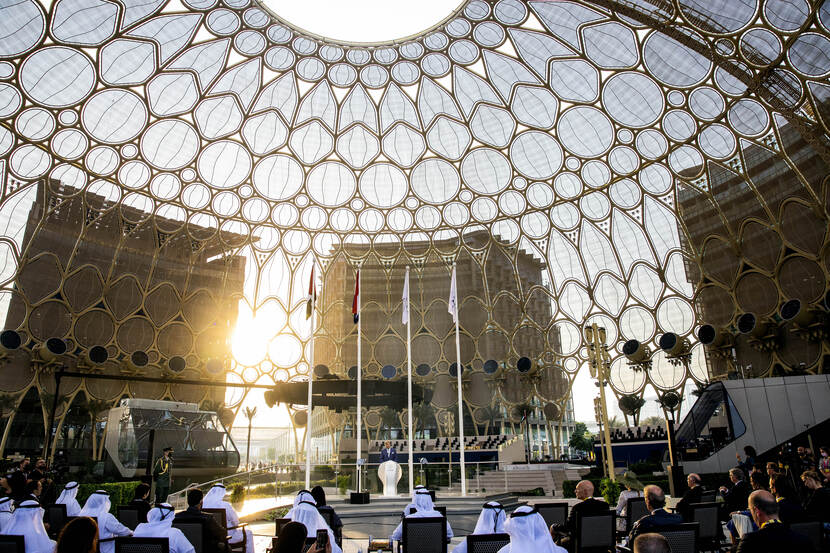 In line with the theme of this edition of the world exhibition, 'Connecting minds, creating the future', 191 participating countries and organisations are showing the world what they can offer in the field of innovation and sustainability. The Netherlands' contribution focuses on 'Uniting water, energy and food', and highlights the link that can be made between water management, sustainable energy and food security. The Netherlands Pavilion is designed as a circular climate system – a biotope – that showcases Dutch expertise and innovative methods to harvest water, energy and food.
The royal couple will attend the official ceremony marking the Netherlands' national day, and the King will hold a speech. Then, accompanied by a UAE delegation, they will visit the pavilions of the Netherlands and the UAE. They will also meet with Expo 2020 Dubai stakeholders.
Before visiting Expo, the King and Queen will pay a working visit to a Pure Harvest 'smart farm'. This high-tech greenhouse in the desert produces tomatoes, strawberries and lettuce in a sustainable manner. The technologies and expertise needed for the greenhouse were supplied by various Dutch parties, and the main grower is a Dutch national.
On 2 November, the King and Queen will attend a number of bilateral meetings in Abu Dhabi.
Expo 2020 Dubai was postponed by a year due to the coronavirus pandemic and is now taking place from 1 October 2021 to 31 March 2022. It is the 35th world exposition and the first one to be held in the Middle East.