Queen Máxima pays virtual visit to Senegal to promote financial services
Her Majesty Queen Máxima is paying a virtual visit to Senegal from Tuesday 19 to Thursday 21 January to discuss progress in ensuring access there to financial services. Queen Máxima is the UN Secretary-General's Special Advocate for Inclusive Finance for Development (UNSGSA).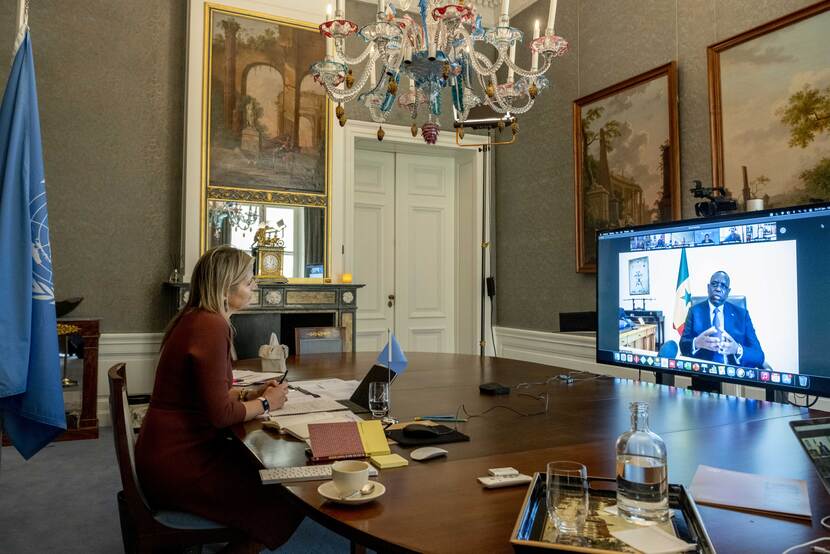 This virtual visit follows up on the Queen's discussion on inclusive finance with Senegalese President Macky Sall at the World Economic Forum (WEF) in Davos in January 2020. According to the 2017 Global Findex database, 42% of adults in Senegal have access to financial services at a banking institution or agency, compared with 15% of adults in 2014. Despite the increase, 4.85 million Senegalese still have no access to a savings or other bank account, an insurance policy, a loan, a pension plan or digital payment systems. This restricts their options for economic development. Low-income people, women, small businesses and residents of remote areas, including small-scale farmers, are particularly likely to lack access to financial services. Only 38% of women have access to such services, compared with 47% of men.
On 18 December 2020 Queen Máxima discussed inclusive finance online with Governor Tiémoko Meyliet Koné of the Central Bank of West African States (BCEAO), which serves the eight countries of the West African Monetary and Economic Union (WAEMU). Among other things Queen Máxima and Governor Koné talked about the progress made in Senegal in implementing the financial inclusion strategy that the BCEAO presented in 2016 for its member states: Benin, Burkina Faso, Côte d'Ivoire, Guinea-Bissau, Mali, Niger, Senegal and Togo. Other topics included ways of expanding digital financial services for residents of remote areas, the fintech sector and better digital payment methods. Queen Máxima stressed the importance of public goods, such as better connectivity, cybersecurity, data privacy, digital proof of identity and financial and digital skills, for secure, fully fledged use of financial services.
On Tueday 19 December Queen Máxima will speak with Senegalese Minister for Finance and the Budget Abdoulaye Daouda Diallo, and have a roundtable discussion on digital financial services with representatives of fintech organisations. On Thursday 21 January she will meet with President Sall, Minister for Microfinance and the Solidarity-Based Economy Zahra Iyane Thiam and Minister for the Digital Economy and Telecommunications Yankhoba Diatara. A second meeting is also planned with Governor Koné.
The African continent is one of Queen Máxima's priority regions as UNSGSA. Since assuming this position in 2009 she has visited many African countries: Egypt (2010), Ethiopia (2013 and 2019), Kenya (2010), Liberia (2010), Mali (2011), Nigeria (2012, 2017), Rwanda (2010), Senegal (2011), Tanzania (2010 and 2013) and South Africa (2011).