Queen Máxima attends IMF/World Bank Annual Meetings
From Friday afternoon 14 October to Saturday 15 October, Her Majesty Queen Máxima will be attending the Annual Meetings of the International Monetary Fund and World Bank Group in Washington, DC. These Annual Meetings will be preceded by a G20 meeting for finance ministers and central bank governors. Queen Máxima is the UN Secretary-General's Special Advocate for Inclusive Finance for Development (UNSGSA). 
On Friday afternoon 14 October Queen Máxima and IMF Managing Director Kristalina Georgieva will speak at an event on 'CBDCs for Financial Inclusion: Risks and Rewards', on the advantages and disadvantages of central bank digital currencies (CBDCs) and their role in financial inclusion. The event will include a panel discussion with representatives of central banks, the Bank for International Settlements, the IMF and the World Bank. That evening Queen Máxima will join US Acting Comptroller of the Currency Michael J. Hsu in hosting a working dinner at the Department of the Treasury. During the dinner the Queen and Mr Hsu will take part in a moderated discussion on the importance of sound financial policy, ways of quantifying it and its impact on policy areas other than finance. Representatives of financial institutions, civil society organisations and US regulatory bodies will attend the discussion. Queen Máxima and Mr Hsu discussed this issue in Washington this past March.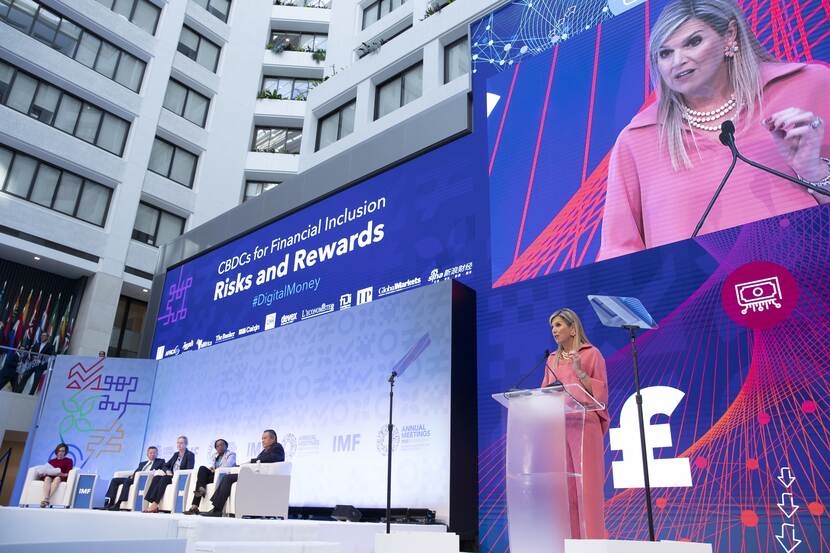 On Saturday morning Queen Máxima will speak at a World Bank event on 'Resilience: Accelerating Financial Inclusion through Digitalization', on the most recent edition of The Global Findex Database for 2021. This publication shows how many adults worldwide have a bank account, a figure that has risen from 51% to 76% since its first edition in 2011. In an initial response on 29 June to the presentation of the latest Findex figures, the Queen said that most people who can easily open a bank account have already done so. The next step is to help them get access to other digital financial services, such as a savings account, insurance and loans, which are tailored to their specific needs and contribute to their financial health and resilience. Bilateral talks are also scheduled for Saturday with representatives of governments that are working for financial inclusion. 
As UNSGSA, Queen Máxima has been striving since 2009 for universal access to financial services, thus enhancing people's opportunities for economic and social development. She focuses particularly on disadvantaged groups such as women, people with low incomes and SMEs (including farmers). Since 2011 she has been Honorary Patron of the G20's Global Partnership for Financial Inclusion (GPFI). 

Government Information Service, no. 269